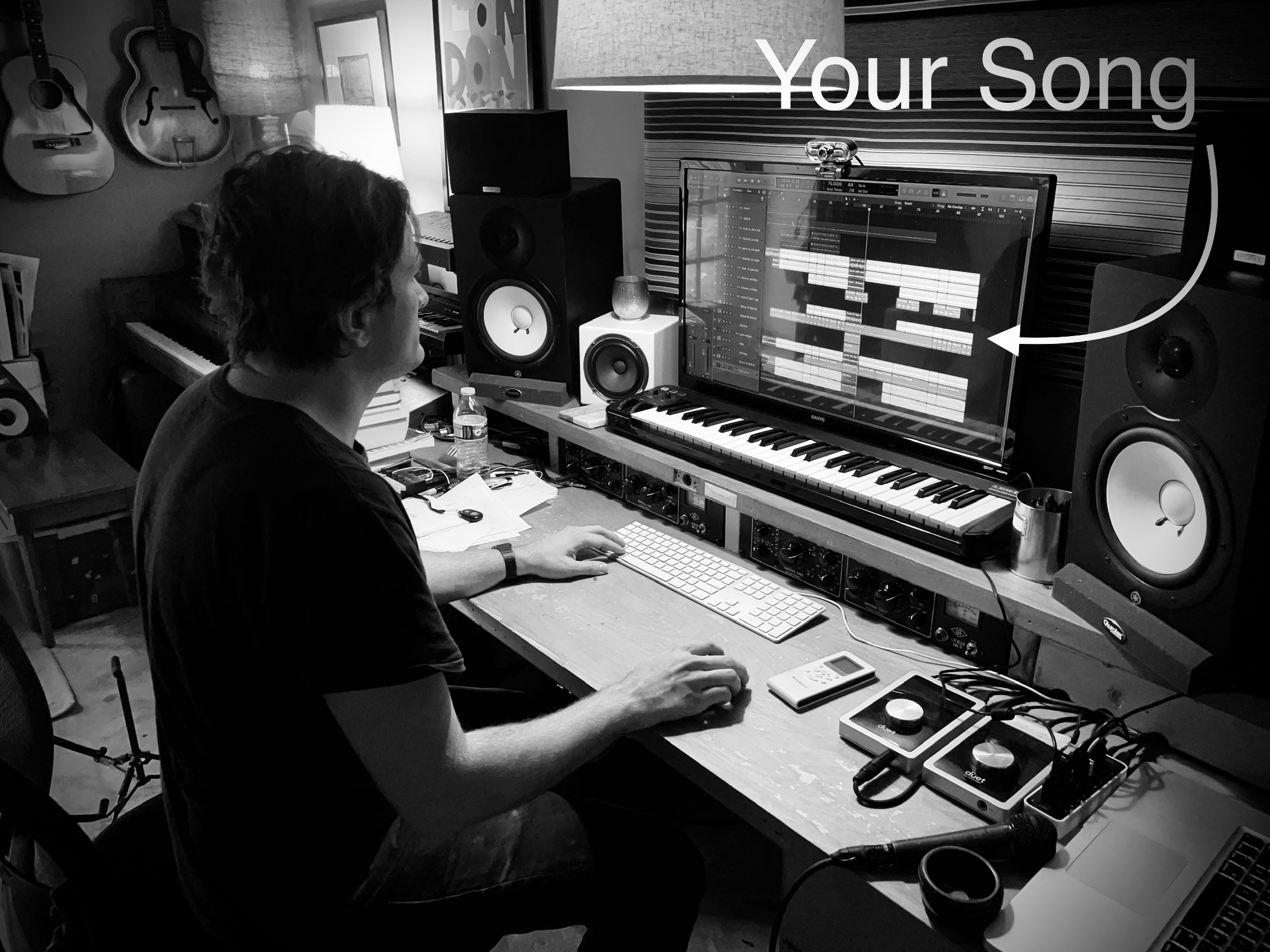 /AARON PRODUCES YOUR SONG VIRTUALLY/
Record from anywhere in the world
No equipment necessary
Pros or hobbyists
---
/FAQs/
How much will this cost? There are three options: 1) Fully produced song with rough mix — $1500. 2) Fully produced and mixed — $1750. 3) Fully produced, mixed and mastered — $2000
---
Can I do some type of payment plan? Yes! We can break it up into quarterly payments or discuss other options.
---
What methods of payment do you accept? Venmo, PayPal, or good old fashioned check.
---
When would we start, and how long will it take? It will take about two weeks of back and forth, from the time of your deposit (half of full fee) to the time you have your fully produced track delivered.
---
What kind of sonic possibilities are available? The song and your and Aaron's vision will determine the sonic elements. It could be more stripped down or it could be a full band sound. Aaron will play all the instruments besides anything you'd like to play. For an additional fee, he can coordinate live strings. For sonic references, listen to Aaron's releases as those were self or co-produced.
---
What would the process be like? (This is a simplified version, but it'll give you and idea.)
You email Aaron rough recording/voice memo of song.

You and Aaron meet over Zoom to discuss the song—structure, lyrics, and vision for production.

You re-record guitar/piano to a click track/metronome (no vocals).

You overdub a "scratch" vocal for reference guide.

Aaron produces per vision and sends to you for feedback.

Repeat #5 until approved.

You record final vocals and send to Aaron.

Aaron mixes in final vocals.

(Option 2) Aaron mixes song.

(Option 3) Aaron masters song.
---
I'm not a professional, is this still for me? That's ok! As long as you have a song you'd like to record and have the ability to perform it. Aaron will walk you through every step of the way.
---
What kind of equipment do I need? I don't have any professional recording gear, will this still work? Aaron loves to work with whatever you have. If that's only a smartphone, so be it.
---
I've never done anything like this before, can I still do it? Absolutely! Aaron will walk you through every step of the way.
---
I have a few songs, can we do more than one? Yes, although Aaron likes to start with one and go from there. Choose the song you're most excited about. Not the one you think Aaron will like the most or the one you think others will like the most.
---
How would I get my finished song onto Apple Music and Spotify, etc.? It's actually quite simple. There are a number of distributors (CD Baby, Tunecore, Distrokid) that can easily guide you through the process in a matter of minutes. If you get stuck or need extra help, Aaron can help!
---
/NEXT STEPS/
I have more questions. Great! Submit them here!
I think I'm ready to move forward. Great! Schedule a call with Aaron!
---
© Aaron Espe