You love Aaron Espe's music.
It holds deep meaning for you.
Several of Aaron's songs have met you at poignant moments in your life and even helped create poignant moments in your life.
But sometimes you wonder––am I truly supporting this music that I love or am I just consuming it? Aaron's art makes my life a little brighter and could help make other people's lives a little brighter, too. Am I passing that gift along to others or am I a dead end?
You want to support Aaron and his music but aren't sure of the best way to do so.
You want to perpetuate his music beyond yourself.
But how?
Meet Bandcamp.
Bandcamp is an app that is both an easy-to-use streaming platform and storefront created to benefit artists (not giant corporations).
It allows you to directly support Aaron Espe Music by subscribing for as little as $5 a month.
Why Bandcamp?
I know you already have access to nearly every song in recorded history, including Aaron's, for free on major platforms.
But, consider that you––dear Aaron Espe fan––may have a vested interest in becoming a part of the grassroots subscriber community at Bandcamp.
First, you don't actually have access to all of Aaron's music.
He regularly releases exclusive content to subscribers on Bandcamp.
That is something you don't want to miss out on.
But also, the stakes are high for fans of independent music like Aaron's.
Direct fan-to-artist support is increasingly becoming the way artists can sustain their creative freedom.
The same creative freedom that first brought you to love Aaron's music is less viable in a world dominated by social media and "going viral."
Your subscription can help circumvent Aaron's dependence on catering to algorithms.
Instead of spending all his time on increasing followers, Aaron can follow his curiosities and create the music you know and love.
In fact, your support directly encourages Aaron in his endeavors, knowing he has a commitment from fans who believe in his art.
What will you get?
You will get exclusive and advanced access to content, spanning the gamut from Aaron's latest unreleased songs all the way to his newfound pandemic hobby––watercolor painting.
Plus you will get a 20% discount on merch.
And subscriber-only AMA's (ask me anything).
Aaron always welcomes an email and is available to subscribers to answer questions or give his perspective on an issue.
Toward the end to the year, Aaron is going to be releasing an album about growing up in the frozen tundra of northern Minnesota.
Imagine, on a cold night this winter, lighting a fire (or if you're like us, turning the fireplace app on the TV), sitting back with a warm drink, a soft blanket, and cozy slippers, spinning Aaron's newest album.
It would feel so good to enjoy his songs knowing you helped make them possible.
You're a part of this story.
What should you do now?
Step 1: Sign up for your Bandcamp account at this link.

Step 2: Subscribe to Aaron's service for $5 a month at this link.

Step 3: Enjoy the perks and feel good about your contribution to good music existing in the world!
Sincerely,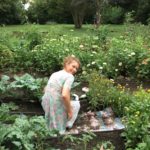 Heidi Espe
When she's not busy wrangling four boys under the age of 10, Heidi Espe helps manage Aaron's music career. She reads 100 books a year and loves to discuss ideas, politics, gardening, and flowers. You can reach her @heiditheflowerful on Instagram.