My Two Favorite Definitions of Success
There's been so much love from "Back to the Beginning" being on the Netflix series After Life. Thank you all for the kind words. Let me show you a funny graph. It's the number of plays "Back to the Beginning" had on Thursday (spoiler alert: it was 4 plays…possibly 3 of those from Mom) and the number it had after airing on the Netflix series.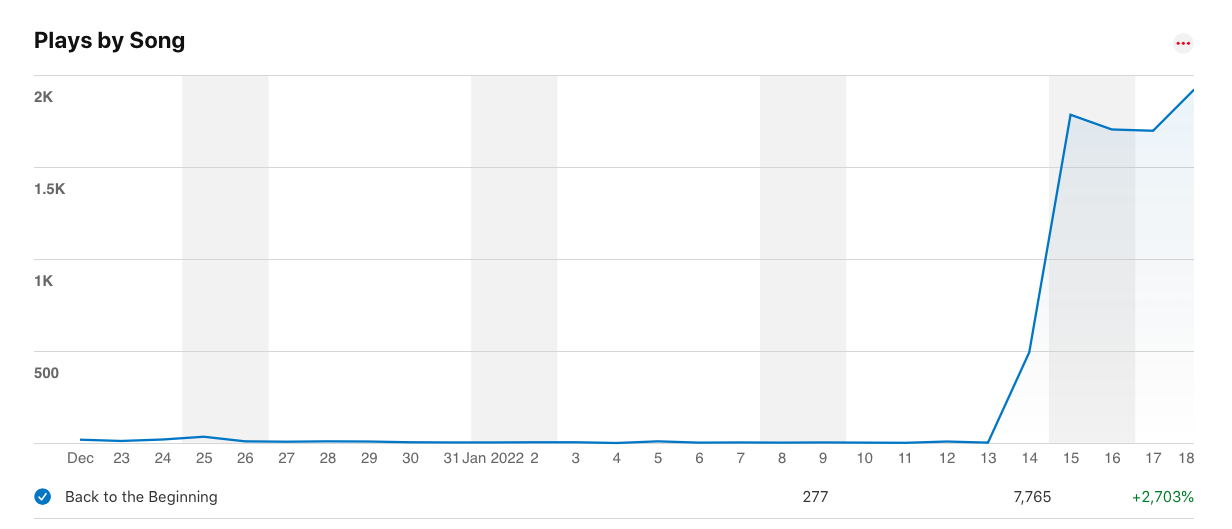 I show this mainly for you artists. It's easy to get down in the dumps, judging our work by external factors. "Back to the Beginning" was the same song on Thursday (and the previous four + years!) as it was on Friday. I swear I didn't change anything. It was a stroke of luck that it ended up on After Life. I'm grateful for that, believe me. But I want to remind you that luck and external factors are out of your control. The thing you can control is the quality of your work, showing up to the blank canvas day after day, and choosing to share your art with others.
I'm reminded of my two favorite definitions of success.
For commercial success:
Good Work x Time x Luck = Success*
For overall success: 
Success is loving the life you currently have.**
Love,
Aaron
*This is a paraphrase of the economist Daniel Kahneman from his book Thinking, Fast and Slow. I highly recommend it. He says his favorite equation for success is talent x luck = success.
**I overheard a guest on the Business Made Simple podcast give this definition. I can't remember who, though, apologies. I tried looking it up to no avail.