…said she loves my music, so how do you expect me to keep that to myself?
Because seriously, talk about a strange day.
I wake up, check a few emails and one is from the head of my label, forwarding me this playlist Taylor Swift put together on Spotify called "Songs Taylor Loves."
I don't really understand. But then I keep scrolling and there I am "Aaron Espe – Making All Things New."
At first I think, no this can't be right. But then I think, well who knows? At the very least I will tweet her a thank-you.
A little while later all of her fans start posting and liking and retweeting my thank-you tweet.
Wow, I should tweet about Taylor Swift more often, that's the trick to tweeting. I've cracked the code!
I didn't crack the code. The trick I found out was that Taylor Swift had "liked" my tweet which meant that the tweet became viral because that's how much power Tay' (if I can be so bold now) exudes in one tap.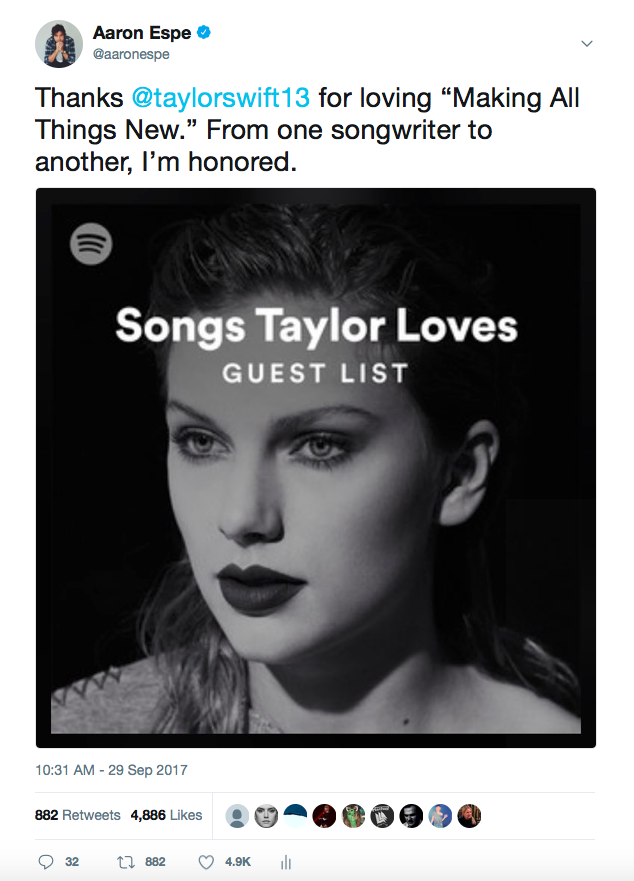 Now, I bet you're wondering how my life has changed since that day, aren't you?
You probably think I'm currently lying sideways on a velvet covered pillow made of European goose down, typing with one hand and sipping a cocktail in the other while people stand outside in a line waiting for my autograph.
Perhaps you think I've now won the attention of every music executive in Nashville and they've made multiple competing offers on the worst song I've ever written (about a dog running over my shoulder and my refrigerator—I was 6, ok?).
I bet you maybe even think that my kids don't cry or whine any more and they brush my teeth and tuck me into bed.
Well, no.
What is true is that I impressed a few people for a few days. Even got a couple "OMG!!s" from people I haven't heard from in years.
And honestly, as a creative person, that stuff feels so good. Taylor Swift putting me on her playlist really means a lot and I truly am thankful. I feel like I've been validated by one of the most successful people in my field.
But do you want to know what's interesting to me about this whole thing?
It wasn't enough.
The feeling went away.
And I was reminded that the only thing that doesn't go away is the work.
I don't know what I'd do if that wasn't my favorite part about music. Writing, creating, collaborating, figuring out how to get something so abstract that pulls on your heart onto a piece of paper, four chords and melody.
And I'm making a sort of pact right now…
…if I ever don't love the work anymore, that's when I'm done. That's when I fill out a Home Depot application.
The day it isn't about a song anymore will be a sad day for me, but I take comfort knowing almost absolutely that day will never come.
So God bless you, Taylor Swift, but it's time for me to get back to work.